Cloughmore Trail via Fiddler's Green
Kilbroney Park, Rostrevor, is situated in a stunning location, where mountain, sea and valley create a scenic wonderland.  Overlooking Carlingford Lough, these 97 acres of beautiful parkland nestle within the shadow of Slieve Martin and the mountains of Mourne.  According to local folklore, the Big Stone was thrown across the lough by Finn McCool during a fight with a giant rival. Follow this trail to the "Chloch Mhór" (Irish for big stone) to enjoy panoramic views across Carlingford Lough and the surrounding landscape.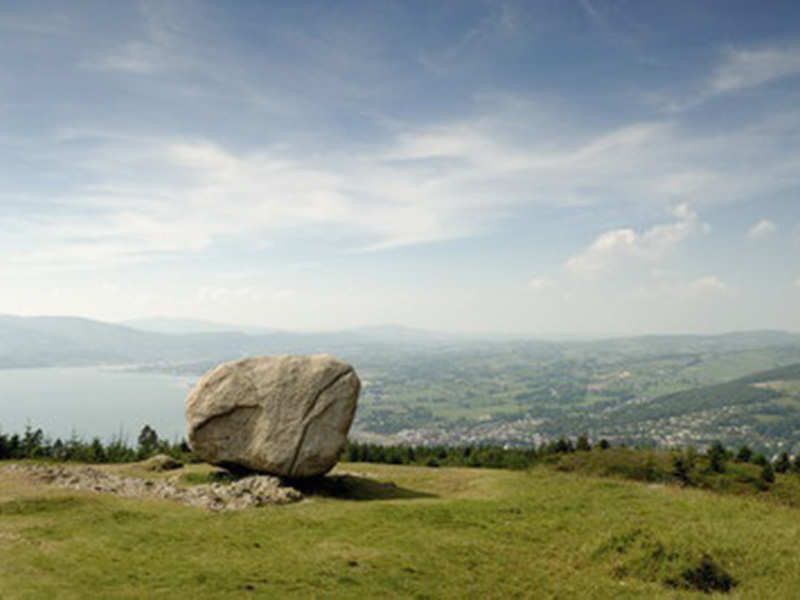 County Down
Distance 2.6 miles
OS Map 29
Terrain Steep inclines, forest tracks, u
Nearest Town Rostrevor
Route Shape Circular
Grid Reference J195175
Route Type Forest, Mountain
Route Description
This walk starts in the upper car park (way-marker no. 1).  Follow the trail uphill until you reach the big stone (way-marker no.3).  Enjoy the views from this great vantage point before following the way-markers downhill as you make your way to a further viewpoint area before reaching the Fiddler's Green.
The latter, small clearing is located at the southern end of the ancient oakwood and was once a focal point for local entertainment.  This custom is maintained in the annual Fiddler's Green traditional music festival, which uses the green as well as other venues across the village. 
Continue on the trail through the ancient oakwood until you rejoin the main road which leads up past the main car park/café/reception area (way-marker no. 15).  Follow the way-markers as you begin your ascent towards the upper car park, completing this circular route walk.  It is also an option to start and finish from the main car park (way-marker no 15) bearing in mind that when you reach the upper car park and pass way-marker no.22 that the next way-marker will be 1.
Point of Interest
Cloughmore (or the 'Big Stone'), Fiddler's Green, ancient Oakwood, natural heritage
Getting to the start
Kilbroney Park is located on the Shore Road (A2) between Rostrevor and Kilkeel. Numbered way-marking posts are in place with way-marker no. 1 being at the upper car park. Alternatively, pedestrian access from the village is via the Fairy Glen entrance to the park.
Facilities
Facilities within Kilbroney Park include: Kilbroney Tree Trail, Narnia Trail, Fairy Glen, Mountain Bike Trails, Rostrevor Mountain Bike Centre, Caravan Park, Café, Toilets, Car Park, Children's Play Park, Adult outdoor gym, ancient Oakwood
In addition, there is a wide range of restaurants/cafes/shops in Rostrevor to suit all tastes.