Slieve Donard (via Glen River)
Slieve Donard at 850m (2,789 ft) is the highest of the Mourne Mtns. The views from the summit are extensive and on a clear day the Isle of Man, Wicklow, Donegal, Wales and Scotland may be seen, as well as the long stretch of Newcastle Beach.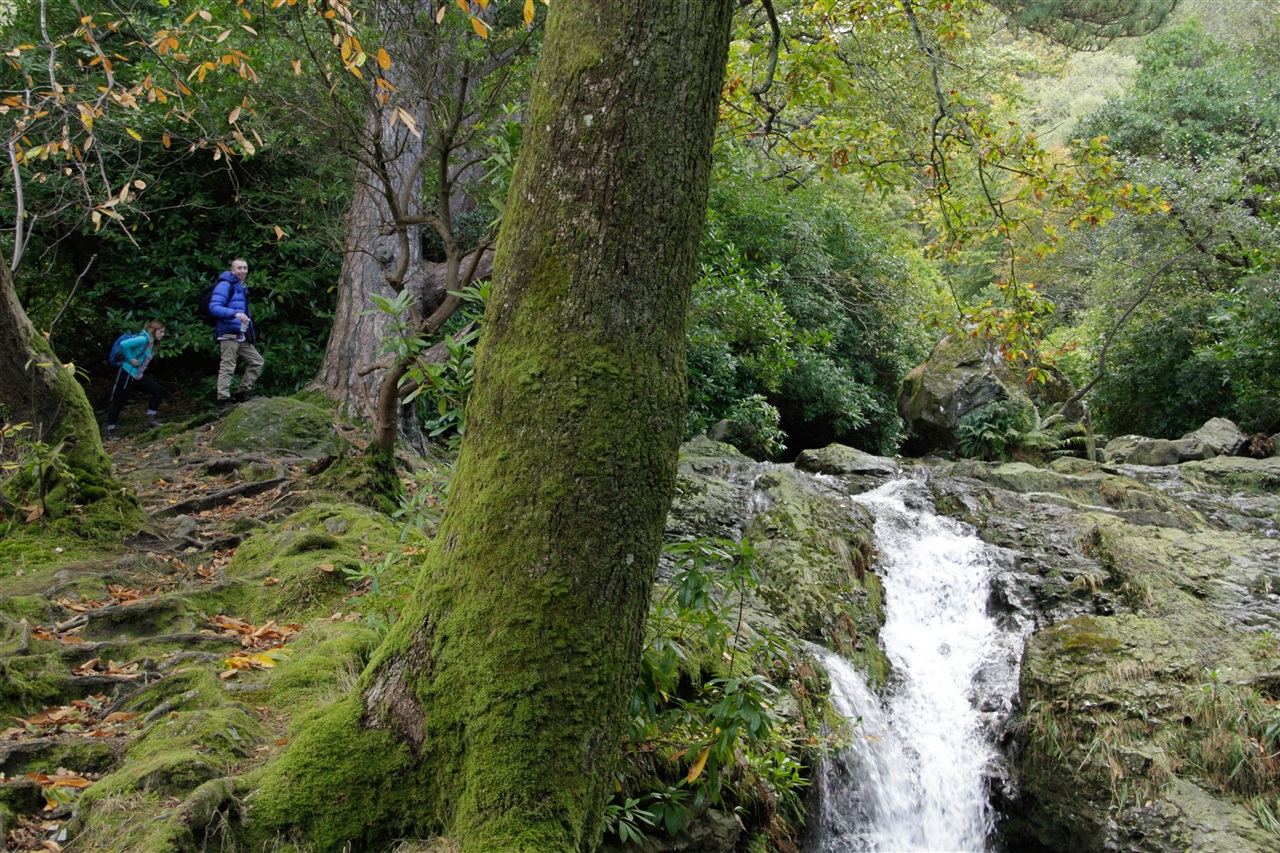 County Down
Distance 2.9 miles
OS Map Sheet 29
Terrain Mainly forest and mountain paths
Nearest Town Newcastle
Route Shape Linear
Grid Reference J375305
Route Type Forest, Mountain
Route Description
Leave the car park in Donard Park heading towards the mountain and follow the Glen River uphill through old woodland of Scots Pine, Oak and Birch. At the first of 3 bridges, cross to the opposite bank.
Continue uphill through the forest, above a deep cut riverbed, for about 400m until another bridge is reached. The riverbank overhangs along this section so extra care is needed.
At this point cross back to the left hand side and resume journey uphill through the trees.
At the next bridge continue across the forest road and onto the rough track heading up towards the mountains, with thick forest on right (fenced), until a gate and stile is reached.
Cross the stile and follow the track above the river for about 2kms, heading towards the saddle between Donard and Commedagh.
At this point, the path crosses the river and continues uphill to the 'Saddle' where it meets the Mourne Wall.
At the Mourne Wall turn left and follow the wall steeply uphill towards the summit.
From the summit return by the same route, staying close to the wall until the Saddle is reached again. The cliffs on the north side of Donard known as Eagle Rocks should be avoided by walkers since the approaches are steep.
Return to Donard Park following the line of the Glen River.
Getting to the start
Follow the one way system to the south end of Newcastle main street. Donard Car Park has ample parking.
Facilities
Toilets and parking in Donard Park. Refreshments in Newcastle.
Accessibility Grade
Grade 5
There may not be a formalised path, and variable, single file trails are to be expected.
Gradients and cross slope could be expected to be steep and not limited.
Obstacles and surface breaks of greater than 75mm measured across the line of the path to be expected.
Overhanging branches are possible. Passing places and rest areas may not be formalised or provided.