Tollymore Forest Park – Mountain & Drinns Trail
A pleasant walk through both conifer and broadleaved woodland passing the Shimna River, duckponds and several points of historical interest. The Drinns Trail is an optional loop for those wishing to have a greater challenge.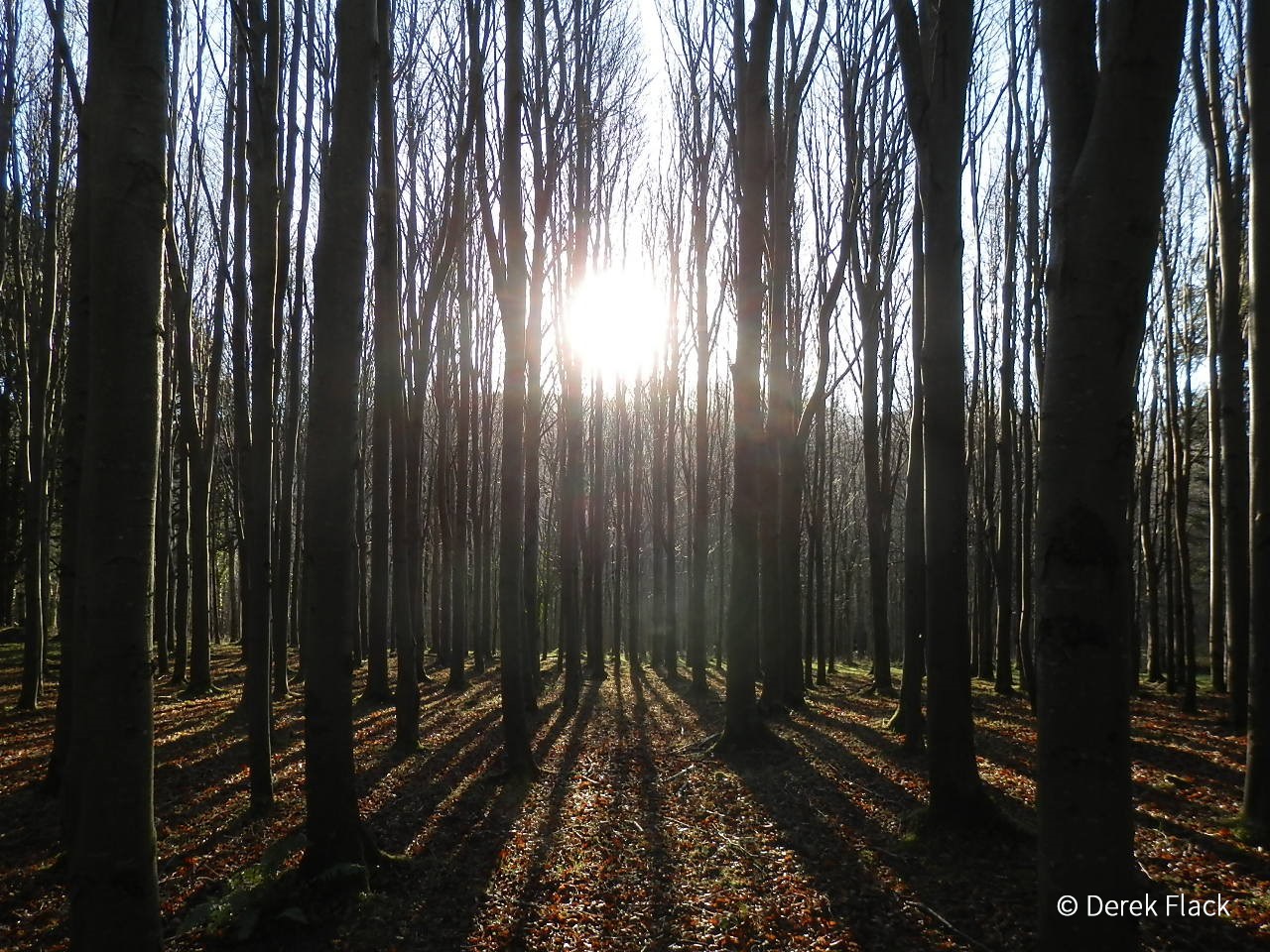 County Down
Distance 8.9 miles
OS Map Sheet 29
Terrain Forest paths, broken surfaces
Nearest Town Newcastle
Route Shape Circular
Grid Reference J343325
Route Type Forest, Hill, Woodland
Route Description
The Mountain Trail -
Passing through the Forest Plots, the Mountain Trail enters a beech woodland, which in the spring is covered in bluebells.
The route runs parallel with the Shimna River before crossing it over the Boundary Bridge.
The trail continues along one of the Shimna's tributaries through mature conifer forest. Good views of Luke's mountain can be had as the trail reaches the boundary wall before zigzagging back toward the Spinkwee River, crossing at the Hore's bridge.
For those seeking a longer walk - from the crossroads follow the optional Drinns Trail.
(The Drinns are two distinct hills clearly seen from the main car park. The easterly Drinn is the highest point in the Forest Park at 255m. The Curraghard viewpoint offers a resting spot to view the expansive view of the Northern Mournes, Dundrum Bay, Newcastle and the Irish Sea)
This Black Trail adds a further 2.9 miles by circumnavigating the Drinns running along the boundary wall and past conifer forest to Curraghhard viewpoint and back to the Mountain Trail.
The second half of the Mountain Trail passes through conifer plantations at various stages of maturity before reaching the second crossing point of the Shimna River at the Ivy Bridge.
The return route to the car park proceeds along the old river drive passing Foley's bridge and the dramatic Shimna Gorge before returning up the Green Rig.
Trail Features
Steps, gullies, fences, streams, boulders
Severe gradients
Generally undefined edges
Overhanging branches
All types of terrain
Some rest areas at irregular intervals
Way-finding markers at trail junctions
Distance 'To Go' markers at trail junctions
These walks are situated in a working forest environment and may be subject to diversion and closure from time to time.
Up to date information is available on the Forest Service web site - link below.
Facilities
Car park (fee charged), toilets (disabled access), picnic areas, camping and caravaning, electronic 'In-Touch' information kiosk, Way-marked/ nature trails, guided tours available
Accessibility Grade
Grade 5
There may not be a formalised path, and variable, single file trails are to be expected.
Gradients and cross slope could be expected to be steep and not limited.
Obstacles and surface breaks of greater than 75mm measured across the line of the path to be expected.
Overhanging branches are possible. Passing places and rest areas may not be formalised or provided.