Ballintempo Forest: Aghanaglack Walk
Aghanaglack is part of the Marble Arch Caves Global Geopark. This circular walk within Ballintempo Forest in west Fermanagh is largely along forest tracks and passes a classic Dual Court Tomb which is managed by the NI Environment Agency. In its original state the tomb was roofed with large stone slabs and then covered with stones and possibly earth. An elevated site amongst the conifers, it was constructed when there were fewer surrounding trees, allowing for spectacular views across the area.
Ballintempo Forest forms one section of the largest continuous forestry track in Northern Ireland. This forest is steeped in geology, local myths and wildlife; so there is something for everyone. Keep a look out for upland birds such as merlin and hen harrier.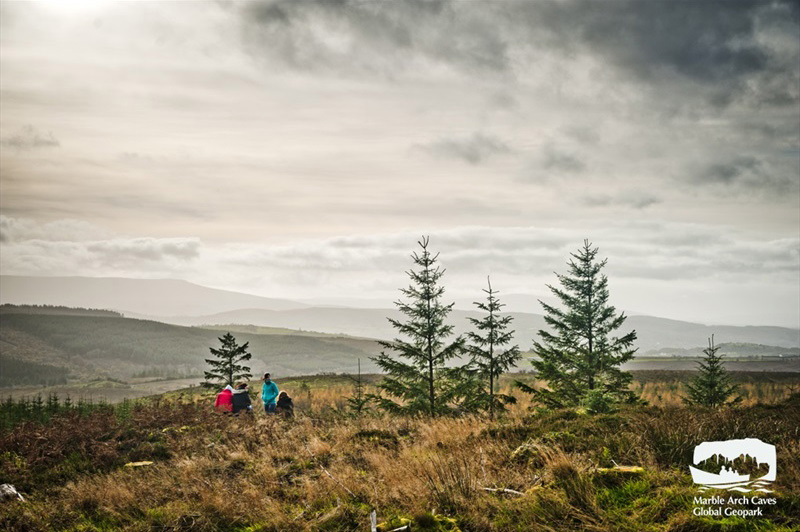 County Fermanagh
Distance 7.8 miles
OS Map Sheet 17
Terrain All types of terrain
Nearest Town Enniskillen
Route Shape Circular
Grid Reference H093430
Route Type Forest, Woodland
Facilities
Car parking available, nearest amenities Belcoo.
Accessibility Grade
Grade 5
There may not be a formalised path, and variable, single file trails are to be expected.
Gradients and cross slope could be expected to be steep and not limited.
Obstacles and surface breaks of greater than 75mm measured across the line of the path to be expected.
Overhanging branches are possible. Passing places and rest areas may not be formalised or provided.