Carrigan Forest: Lough Formal Walk
Lough Formal Walk: Carrigan Forest is part of the Marble Arch Caves Global Geopark. The Lough Formal walk is almost all on forestry tracks and features a short path through the heather to the summit of Formal More. This brisk walk is a chance to fill your lungs with mountain forest air while enjoying the views from Formal More, looking at some features of geological interest and experiencing a touch of wilderness. Sitting quietly for a while, you may be surprised at how much wildlife comes to you, in this seemingly barren woodland.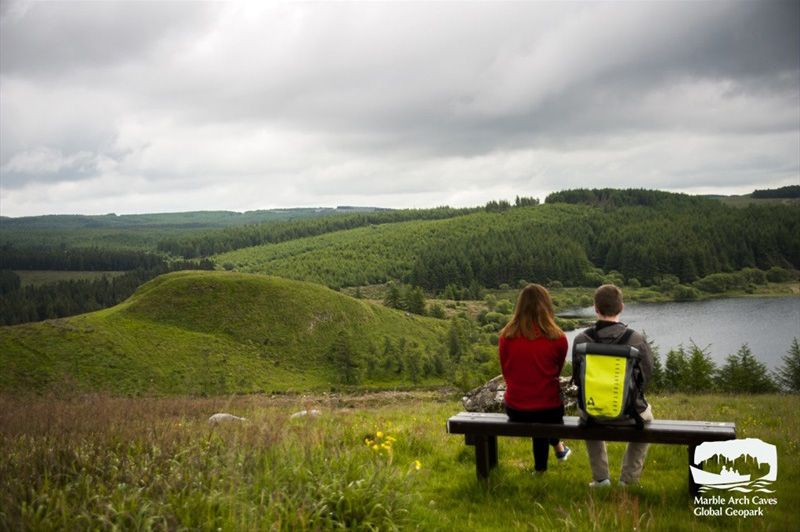 County Fermanagh
Distance 6.1 miles
OS Map Sheet 17
Terrain All types of terrain
Nearest Town Derrygonnelly
Route Shape Circular
Grid Reference H041494
Route Type Forest, Lakeland, Woodland
Route Description
From the car park, follow the black route as indicated by the way marked posts. This takes you west along a short section of minor road, where the route then branches left onto a forest track. The route takes you through corridors of forest, opening up as you near Lough Formal. Take a moment to watch for woodland wildlife on one of the benches overlooking Lough Formal and proceed along the shores of the lough before making the short climb up Formal More to enjoy the views towards Lough Melvin, Donegal Bay and Cuilcagh Mountain. Retrace your steps to the junction in the path where you then turn right. The next section traces the Roogagh River and takes you deep into the forest before re-emerging onto the hill road.
Please note: This Forest is managed sustainably by NI Forest Service. This walk is situated in a working forest environment and may be subject to diversions and closure from time to time.
Point of Interest
The most intriguing feature along the walk is the delightful Lough Formal that lies in the shadow of Formal More and Formal Beg. The bed of Lough Formal sits astride two very different rock types: Dartry Limestone and Glenade Sandstone both of which forme
Facilities
Information panel. Car parking available in car park for Big Dog Forest, nearest amenities Derrygonnelly.
Accessibility Grade
Grade 4
The path may not be hard and firm in all weathers with loose stones (not bigger than 10cm) with occasional tree roots and pot holes and will be at least 80cm wide for its entire length.
The path gradients and cross slopes will be greater than 6°.
Obstacles such as steps or stiles are to be expected and surface breaks may be larger 75mm in width.
There will be a clear head height of greater than 2.10m for the entire length of the route.
Passing places and rest areas may not be formalised or provided.