Castle Coole – Beech Trail
The Beech Wood which forms an important back drop to the mansion is a tranquil walk through unspoilt nature. The wood was planted around 1709 with a mixed group of beech, oak and scots pine. The wood still has oak trees dating back to the early 18th Century and contains the oldest trees in the park.
Previous names for the Beech Wood Walk include the 'Ladies Walk' and the 'Blue Bell Walk.' The name Ladies Walk is believed to come from reports that it was a favourite walk of the daughters of the 4th Earl. The origins of the title Blue Bell Walk is evident in May when walkers will be captivated by the nation's favourite wild flower, native blue bells, (Hyacinthoides Non-Scripta) which carpets the Beech Wood.
As part of the Beech Wood walk, walkers will pass the Ice House which dates back to 1794. It is made of brick and shaped like an inverted cone with a dome vaulted top. In frosty weather it would have been filled with ice from a nearby pond, the ice being broken into a coarse powder, rammed down and consolidated with water or salt water. Meat game, fish, poultry, dairy produce and fruit were stored in the body of the ice or the space above it. The ice was also used in the making of cold drinks and frozen puddings.
The top of the slopes on the walk provide splendid views in places east wards to Topped Mountain.
The 18th century mansion will also come into view. Designed by James Wyatt and completed in 1798 for the 1st Earl of Belmore. The interior was created by some of the leading craftsmen of the 18th and 19th century.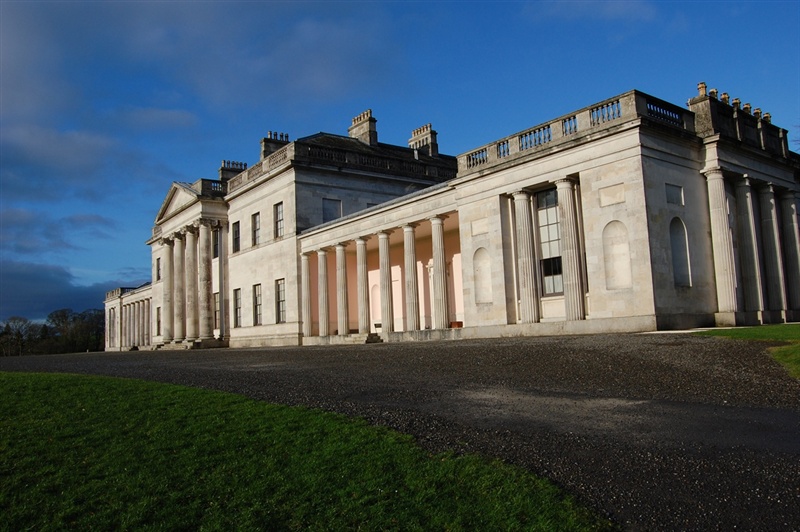 County Fermanagh
Distance 0.7 miles
OS Map Sheet 18
Terrain Surfaced Woodland Path
Nearest Town Enniskillen
Route Shape Circular
Grid Reference H260431
Route Type Lakeland, Parkland & Grassland, Woodland
Accessibility Grade
Grade 4
The path may not be hard and firm in all weathers with loose stones (not bigger than 10cm) with occasional tree roots and pot holes and will be at least 80cm wide for its entire length.
The path gradients and cross slopes will be greater than 6°.
Obstacles such as steps or stiles are to be expected and surface breaks may be larger 75mm in width.
There will be a clear head height of greater than 2.10m for the entire length of the route.
Passing places and rest areas may not be formalised or provided.