Errigal Glen Trail
The Errigal Glen Trail follows woodland trail, country roads, forest road and open hillside. Points of interest include Errigal Old Church and Souterrain and Gortnamoyagh Inauguration Stone.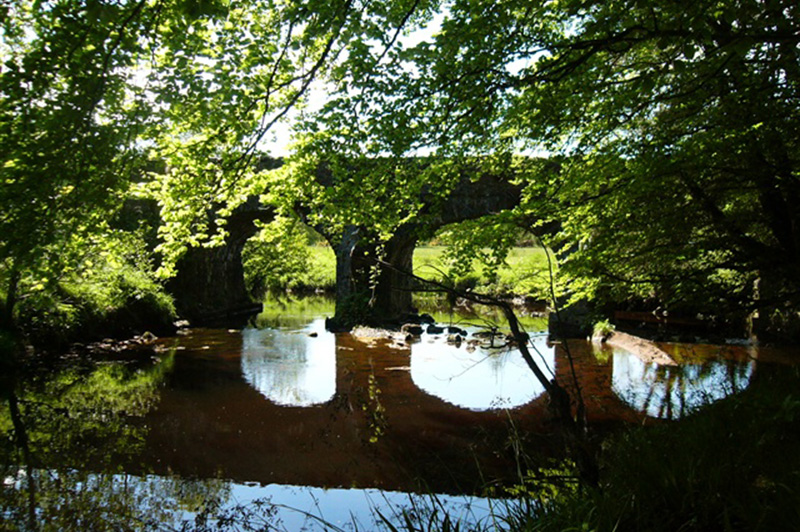 County Londonderry
Distance 2.5 miles
OS Map Sheet 8
Terrain Woodland trail, hills & roads
Nearest Town Garvagh
Route Shape Circular
Grid Reference C812145
Route Type Hill, Woodland
Route Description
This waymarked trail (follow green waymarkers) starts and finishes at the Errigal Bridge entrance to Errigal Glen on Temple Road. The route follows the fast flowing Agivey River through the steep-sided and well-wooded Glen. For safety reasons, please keep to the waymarked track through the Glen. Having passed Ballintemple House, exit the Glen on to Churchtown Road, turn left and proceed with care along this road. On reaching the junction at Ballintemple, turn right on to Ballyrogan Road, observing the ancient remains of Errigal Old Church and souterrain on the left. Proceed along this road and turn left on to Gortnamoyagh Road before entering Gortnamoyagh Forest on the left. Within the forest section it is possible to visit the inauguration stone known as the Saint's Track or Shane's Leap. From the forest the route passes through new woodland, picking up the remnants of an old laneway to join Churchtown Road. Turn right and then left at the next junction on to Glen Road returning to the starting point at Errigal Bridge.
Facilities
Refreshments and toilets available in Garvagh, approx. 3 miles away
Accessibility Grade
Grade 5
There may not be a formalised path, and variable, single file trails are to be expected.
Gradients and cross slope could be expected to be steep and not limited.
Obstacles and surface breaks of greater than 75mm measured across the line of the path to be expected.
Overhanging branches are possible. Passing places and rest areas may not be formalised or provided.