Glenariff Forest Park, Scenic Trail
The Trail allows the more able person to enjoy walking through mature woodland, along the edges of steep sided river gorges with waterfalls and open moorland. This trail also takes you past some spectacular features including a steep river gorge and spectacular waterfalls. One of the highlights of this walk is the views of Mull of Kintyre on a clear day.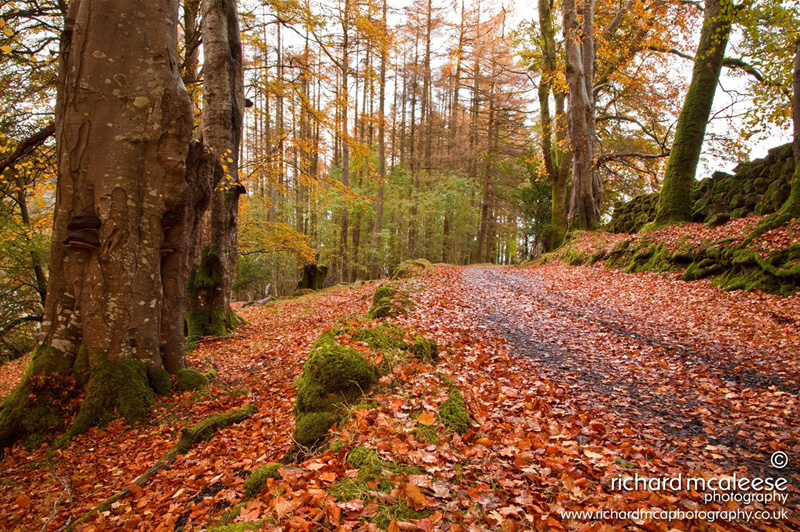 County Antrim
Distance 5.5 miles
OS Map Sheet 9
Terrain Forest paths, steep in places
Nearest Town Cushendall
Route Shape Circular
Grid Reference D210202
Route Type Woodland
Facilities
Car park (fee charged), Picnic areas, Café, Shop, Toilets (disabled access), Camping and Caravaning, Electronic 'In-Touch' Information Kiosk, Way-marked/nature trails, Lecture room/Classroom, Permanent Exhibition, Guided tours available. The following facilities are available for users with limited mobility: – Café (wheelchair accessible) – Shop (wheelchair accessible) – Visitors Centre – Disabled toilets
Accessibility Grade
Grade 5
There may not be a formalised path, and variable, single file trails are to be expected.
Gradients and cross slope could be expected to be steep and not limited.
Obstacles and surface breaks of greater than 75mm measured across the line of the path to be expected.
Overhanging branches are possible. Passing places and rest areas may not be formalised or provided.