Hare's Gap
The Hare's Gap is the most dramatic mountain pass in the Mournes. Its sharply defined outline indicates that ice once passed this way; using the Gap's convenient north-south alignment to advance and retreat over the entire Mournes range. In more recent times the Hare's Gap marked the exit point for smuggled goods which had crossed the hills from the coast along the Brandy Pad. The contraband (which included soap, leather, spices and coffee) was carried through the mountains on the backs of small ponies which descended by the Hare's Gap to the valley of the Trassey River and on to Hilltown (a favourite distribution centre). Nowadays, the Gap's easily reached central location on the rim of the High Mournes makes it a popular starting point for routes scaling adjoining peaks, or simply for a walk along the gentle contours of the Brandy Pad.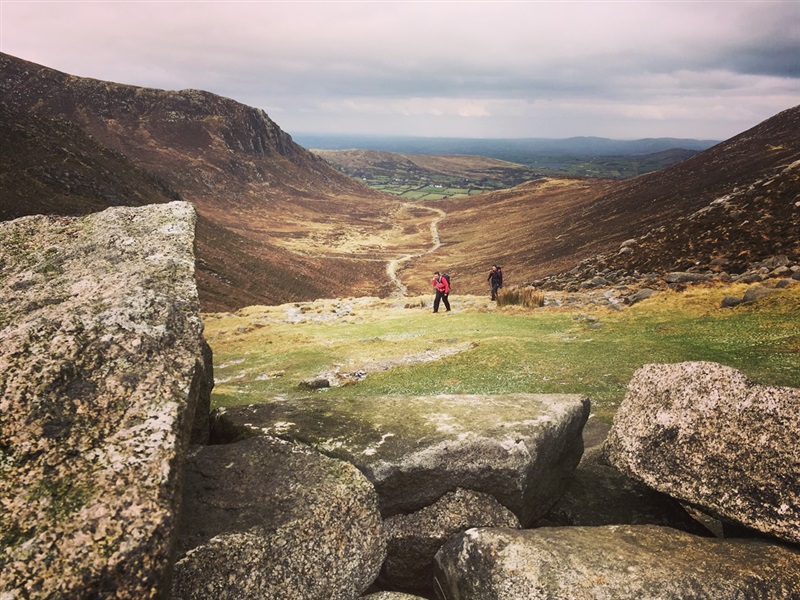 County Down
Distance 2.1 miles
OS Map Sheet 29 + Mourne Outdoor Pursuits Map (1:25,000)
Terrain Unsurfaced off road paths
Nearest Town Newcastle
Route Shape Linear
Grid Reference J311314
Route Type Mountain
Facilities
Formal car parking area. Further car parking, cafe, toilets, camping and accommodation available at Meelmore Lodge located near Trassey Car Park.
Accessibility Grade
Grade 5
There may not be a formalised path, and variable, single file trails are to be expected.
Gradients and cross slope could be expected to be steep and not limited.
Obstacles and surface breaks of greater than 75mm measured across the line of the path to be expected.
Overhanging branches are possible. Passing places and rest areas may not be formalised or provided.