Huntly Wood
Enjoy a calming stroll among mature Beech and Oak trees in this small area of woodland.  Huntly Wood is a natural haven, an approx. 10 acre wood sited on steep wooded banks between the Huntly Road and the River Bann, Banbridge
In 2006 Banbridge Golf Club kindly granted a 25 year lease to the former Banbridge District Council (post 2015 – Armagh City, Banbridge and Craigavon Borough Council) to manage this area of woodland for public access and conservation and it was offically opened to the public in July 2007. The project was completed with invaluable assistance from Probation Service for N.I. and with grant assistance from Environment and Heritage Service.
The approx. 0.75 mile circular walk follows, for a short distance, the track of the former Banbridge to Scarva railway line along the River Bann before looping back along the upper banks to the starting point at the lay-by.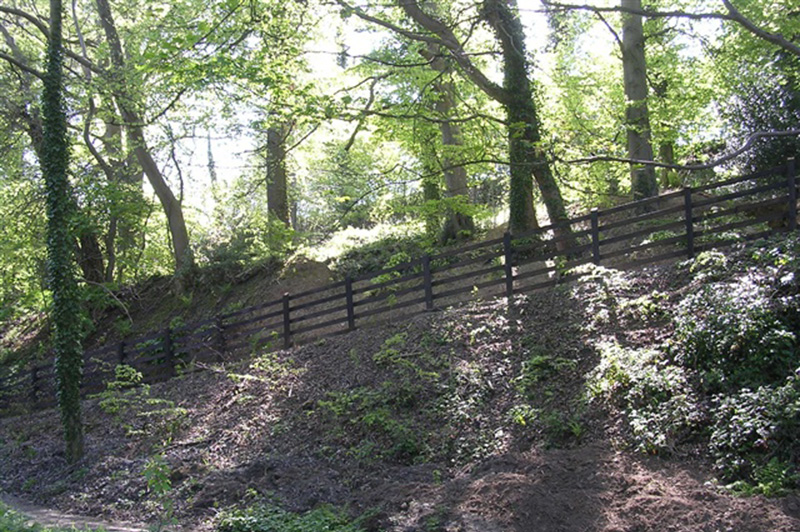 County Down
Distance 0.6 miles
OS Map Sheet 20
Terrain Basic Woodland Trail
Nearest Town Banbridge
Route Shape Circular
Grid Reference J118474
Route Type Riverside, Urban, Woodland
Dog Policy
Should be kept under close control at all times.
Facilities
The F.E. McWilliam Gallery & Studio, 200 Newry Road, Banbridge, County Down, BT32 3NB. Located just off the A1 and opened in September 2008, the F.E. McWilliam Gallery and Studio is dedicated to the memory of the successful Banbridge born sculptor Frederick Edward McWilliam (1909 -1992). McWilliam is an internationally known sculptor of eclectic style – described as 'An inventor of styles'. He was a contemporary of Brancusi, Henry Moore and William Scott. When he died his executors left his London studio and many examples of his work in different stages to the state with a view to it being displayed in his native town. The studio has been lovingly reconstructed by Banbridge District Council in a peaceful sculpture garden at this small modern gallery which houses many examples of his work.
Admission is free and facilities include a cafe, gift shop and tourist information.
Opening hours:
Monday – Saturday 10.00am-5.00pm
Sunday – (June, July & August only – 1.00 pm – 5.00 pm).
Fergusons Irish Linen Centre :
A visit to Thomas Ferguson Irish Linen offers visitors a rare opportunity to see Irish linen at its various stages of production. These include design, weaving, specialist cutting and hemming and ornamenting. The Ferguson Irish Linen Centre tells the story of linen production through interpretative material. Visitors can purchase products from the Centre's fabulous linen collections. The Linen Centre is open to the public during the times specified below and no appointment is necessary. The Linen Centre is open as follows:
Opening Times
Monday-Thursday 9.00am – 4.30pm
Friday 9.00am – 12.15pm
Factory Tours
The tour costs £6.00 per person (for 1-2 people), £4.75 per person (for 3-5 people), £3.75 (for 6-20 people) and £3.00 per person (for 20+ people). The tour lasts for about 45 minutes and is not suitable for children under 7 years. Appointments are recommended for tours.
Contact:
Fergusons Irish Linen Centre
54 Scarva Road, Banbridge, Co. Down BT32 3QD
T: 028 4062 3491
F: 028 4062 2453
W: www.fergusonsirishlinen.com
Solitude Park:
Solitude Park Solitude Park is a natural gem in the heart of Banbridge. It offers a perfect place for a break from shopping, a place to stretch your legs, have a picnic, or enjoy the range of events which take place in the park throughout the year or simply to relax and enjoy the tranquillity of the River Bann which meanders through the park.
It covers around 10.5 acres in a central location with access points off Bridge Street, Rathfriland Street and the Castlewellan Road. Banbridge District Council completed a major refurbishment of the park in 2009 and in addition to open space with beautiful mature trees it offers a riverside walk, sculpture trail, a childrens' play area, event space, canoe steps, picnic tables, themed short walks and small gardens designed to reflect the land use history here of railway and linen mills. Parking and public toilets (off Rathfriland Street).
Banbridge Riverside Walk:
Banbridge Riverside Walk is an attractive linear walk following a surfaced, flat, tree lined route along the western bank of the River Bann out of the town and to a small area of open space and a play area at Huntly – approx. 0.88 mile/1.41 km return. This was part of the line of the former Banbridge Junction Railway which ran between Banbridge and Scarva from 1859 to 1956 and also ran through Huntly Wood.
Join the Riverside Walk at Banbridge Leisure Centre, located off the Downshire Road, a short walk from the town centre. There is ample parking here and a free car park just opposite. There is a café upstairs at the Centre.
Accessibility Grade
Grade 3
The path may not be hard and firm in all weathers with loose stones (not bigger than 5cm) with occasional tree roots and pot holes and will be at least 1m wide for its entire length.
The path will not be steeper than 6° or have a cross slope of greater than 6°.
There will not be any obstacles such as steps or stiles and surface breaks will be between 12mm and 75mm in width.
There will be a clear head height of greater than 2.10m for the entire length of the route.
There will be passing places at least every 150m and rest areas at least every 1km.