Killyfole Lough
Killyfole Lough is a fresh water lough between Lisnaksea and Rosslea in east Fermanagh. There is a rich history in the area with the earliest evidence of settlement being linked to the Crannóg which is located in the centre of the lough. When the water level falls it is still visible today; it is believed this Crannóg was inhabited during medieval times. Formally a drumlin wetland area, Killyfole was flooded and dammed by the Water Service to function as a reservoir in the mid 1960s. When decommissioned, the site was sold to the local Council, who in conjunction with the local community group, developed the site as a local amenity and wildlife sanctuary. A 2.5km loop walk has been developed around the lough, of which almost 1km is suitable for wheelchairs. The route around the lough includes boardwalk sections, allowing you closer glimpses into the lough depths and wildlife. It is a beautiful, peaceful walk taking in open water, reedbeds and small pockets of wet woodland.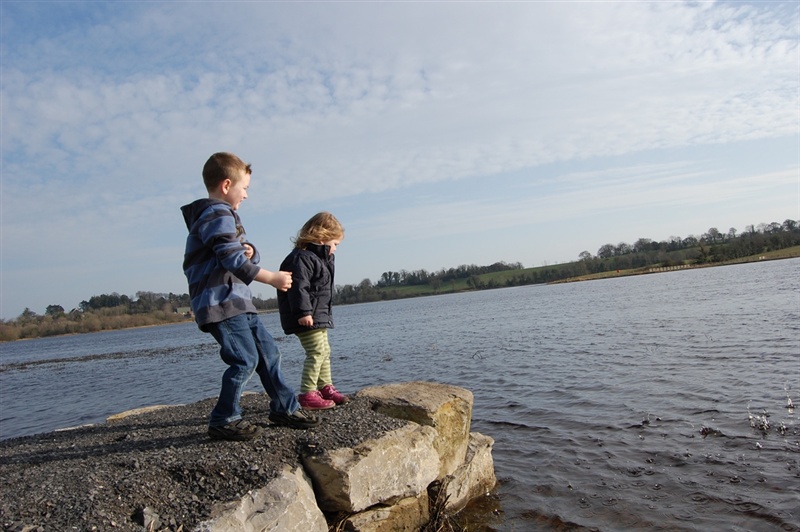 County Fermanagh
Distance 1.4 miles
OS Map Sheet 27
Terrain flat gravel, boardwalk
Nearest Town Rosslea
Route Shape Circular
Grid Reference H472313
Route Type Lakeland, Woodland
Facilities
Car parking – There are two places to park – one at the old waterworks site where there is more space here or on the Lisnaskea-Rosslea road. There is also a bird hide and fishing stands suitable for wheelchair users.There is a picnic table at the road side car park.
Accessibility Grade
Grade 3
The path may not be hard and firm in all weathers with loose stones (not bigger than 5cm) with occasional tree roots and pot holes and will be at least 1m wide for its entire length.
The path will not be steeper than 6° or have a cross slope of greater than 6°.
There will not be any obstacles such as steps or stiles and surface breaks will be between 12mm and 75mm in width.
There will be a clear head height of greater than 2.10m for the entire length of the route.
There will be passing places at least every 150m and rest areas at least every 1km.