Mussenden Temple & Downhill Demesne
There cannot be a more wild and dramatic headland in Northern Ireland than Downhill Estate. With fabulous views that stretch over the whole of the North Coast of Ireland and open windswept cliff top walks, it is not surprising that the estate is part of the Binevenagh Area of Outstanding Natural Beauty and is a well known icon.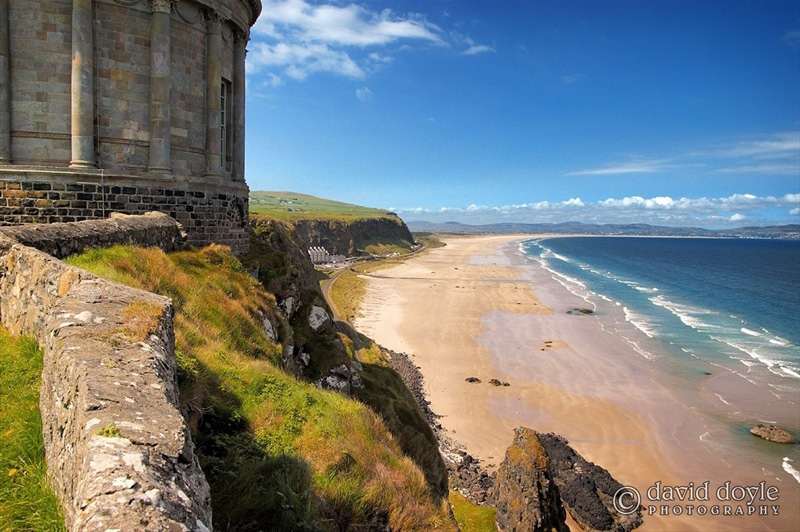 County Londonderry
Distance 1.8 miles
OS Map Sheet 4
Terrain Gravel paths, mown grass tracks
Nearest Town Castlerock, near Coleraine
Route Shape Circular
Grid Reference C760354
Route Type Coastal, Parkland & Grassland
Route Description
Starting at Bishop's Gate entrance to the Demesne, proceed past a quaint gothic style gate lodge (private residence) and enter into the Bishop's Gate Gardens – look out for the unusual bog garden. At a fork in the main path, take the right track – a well surfaced woodland path and pass through a relict arboretum with many rare tree species.
At another pronounced fork, follow signs for Mussenden Temple up a steepish grass track. Through a small wooden gate proceed on to gain a majestic view of the gaunt ruins of Downhill House. At this stage you can explore the ruin, or either head to Mussenden Temple which now beckons, perched on the cliff edge. The views of Ireland's North Coast and some of the Scottish Western Isles (Islay & Jura) on a clear day are very impressive.
At this point, walkers can choose to retrace their steps or the more adventurous can head west (left of the Temple), making sure to correctly locate the mown grass track through the hay meadows and head for another unusual built feature – the dovecote (another circular type building). From the dovecote, with ice house below – a fantasy landscape of a walled garden appears. On exiting the walled garden, all paths lead back to the ruins of Downhill House, but to return to your starting point veer off to the right, just before the front of the house – following a grass track. This grass track leads to the Mausoleum and back to the gardens at Bishop's Gate.
You have now completed 2 miles…and a bit!
Please note National Trust entrance fees apply to this walk. For details see National Trust Downhill
Facilities
Car park, Toilets (closed October-March), Picnic area & Information (Note: toilets located at Lion's Gate car park) Wardening staff on duty (during visitor season).
Accessibility Grade
Grade 5
There may not be a formalised path, and variable, single file trails are to be expected.
Gradients and cross slope could be expected to be steep and not limited.
Obstacles and surface breaks of greater than 75mm measured across the line of the path to be expected.
Overhanging branches are possible. Passing places and rest areas may not be formalised or provided.