Ness, Ervey and Burntollet
Ness Country Park
This steep wooded glen is a remnant of extensive natural oakwoods and comprises 20 ha, with riverside/woodland paths including wooden steps & footbridges, habitat of many different species of wildlife and birdlife. The site is also an ASSI and is NIEA owned and managed. Recent development work in the park now means the walk extends along both sides of the Burntollet River joining Ness and Ervey Woods. It also includes an area of level meadow, providing easy-access walking for less able visitors. The Park has wildlife ponds, picnic tables, wildflower meadows and a new Visitor Centre where you can view an exhibition on woodland biodiversity.
Ervey Wood
A large section of the wood is also an ASSI extending for over 1km on the northern side of the flanks and floor of the Burntollet Glen, with the Burntollet River running adjacent to its southern boundary. A pleasant walk in all seasons with some steep inclines, although best in spring. It is also owned and managed by NIEA.
Recent development work in the park now means the the walk extends along both sides of the Burntollet River joining Ness and Ervey Woods
Burntollet Wood
Burntollet Wood sits adjacent to Ness Country Park. The wood is still in its infancy and is an Area of Special Scientific Interest containing fragments of rare ancient woodland. The Woodland Trust has planted over 43,000 native trees at Burntollet, mostly oak with scatterings of ash, alder and wild cherry. The young trees will buffer the nearby pockets of ancient woodland, slowly linking habitats together and providing an extended haunt for the Valley's precious wildlife. In summertime, visitors will be treated to 11 hectares (27 acres) of gloriously coloured wild flowers. Vibrant displays of yellow rattle, birdsfoot trefoil, red campion, and ox-eye daisy await you. The flowers, interspersed with clover, barley and oats, provide a valuable habitat for numerous species of insects and birds.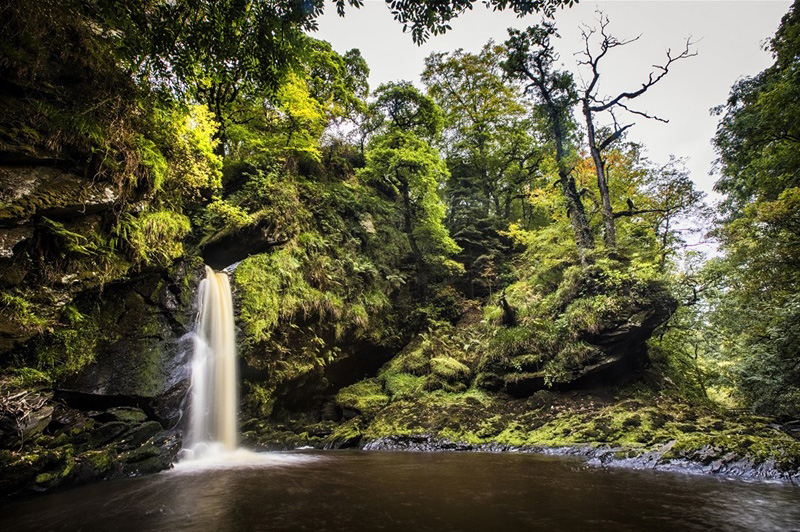 County Londonderry
Distance 1.6 miles
OS Map Sheet 7
Terrain Woodland / Riverside Paths / Wooden boardwalks/steps.
Nearest Town Derry/Claudy/Eglinton
Route Shape Circular
Grid Reference C528118
Route Type Riverside, Woodland
Dog Policy
Dogs must be kept under control around Visitor Centre & car parks
Facilities
Visitor Centre, Toilets, Car park, Picnic Site.Please see link below to Ness Country Park for opening times. The following facilities are available for users with limited mobility: – Visitors Centre – Disabled toilets – Disabled parking
Accessibility Grade
Grade 4
The path may not be hard and firm in all weathers with loose stones (not bigger than 10cm) with occasional tree roots and pot holes and will be at least 80cm wide for its entire length.
The path gradients and cross slopes will be greater than 6°.
Obstacles such as steps or stiles are to be expected and surface breaks may be larger 75mm in width.
There will be a clear head height of greater than 2.10m for the entire length of the route.
Passing places and rest areas may not be formalised or provided.