Rowallane Garden- Woodland Walk
Whatever the season there's always something new to see at Rowallane Gardens, one of the most beautiful gardens in Northern Ireland.
Carved from the County Down landscape, the garden has grown from the 19th century beginnings of the Reverend John Moore and his nephew Hugh Armytage Moore. Their vision helped create a place where you can leave the outside world behind and immerse yourself in nature's beauty.
The gardens are a mix of formal and informal spaces with many unusual vistas and unique plants from across the world. The trees, plants and shrubs range in ages, size and colour and create a spectacle throughout the year.
Rowallane Garden is ideal for leisurely walks, afternoon teas in the cafe or just simply relaxing on a seat in the walled garden.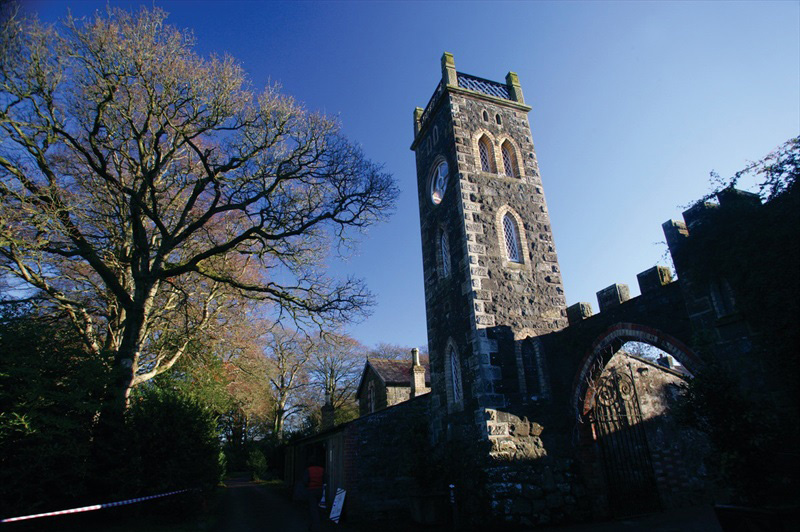 County Down
Distance 1.1 miles
OS Map Sheet 21
Terrain Natural woodland floor and grass
Nearest Town Saintfield
Route Shape Circular
Grid Reference J409577
Route Type Parkland & Grassland, Woodland
Route Description
Please refer to map attached for details of where to visit in Rowallane Gardens
Pond and Pleasure Ground area - approximately 30 minutes return journey from car park
1. Visitor Centre: Start your walk from the Visitor Centre which is located on the ground floor of the House. There is an interpretation area, café, second hand book shop and toilets. Pick up your activity sheets here to explore the changing colours of the garden throughout the year. Note: Café and book shop are open seasonally – please check with staff or notice boards for opening times.
2. Pleasure Ground: Here many of the towering conifers were planted by the Reverend John Moore in 1858 when he laid out the Pleasure Grounds. You can explore the new path which meanders past the pond, through the trees, looping around with sweeping views of the farmland and leading back towards the Bandstand and the Visitor Centre.
3. The Bandstand: This unique feature originally stood proudly on Newcastle Promenade in County Down. It was given to the National Trust in 1986 and we carefully restored it and placed it on an existing stone dais (a low platform for a lectern).
Walled Garden area – approximately 20 minutes return journey from car park
4. Walled Garden: Originally built for fruit and vegetables by the Reverend John Moore, this sheltered space was changed to ornamental planting by his nephew Hugh Armytage Moore who inherited the garden. With such an eclectic mix of herbaceous plants, bulbs, herbs and climbers this part of the garden unfolds weekly from spring to autumn.
5. Outer Walled Garden: There is a secluded feel to this area of the garden with enclosed walls and a pond. In the centre of the lawn is a flowering Quince (Chaenomeles 'Rowallane') discovered as a seedling and named after Rowallane.
6. The Haggard: This is an old Celtic name meaning hedge. Now informally planted with trees and shrubs, it would originally have housed the ducks and hens and seen the cows coming in for milking.
Avenue area - approximately 40 minutes return journey from car park
13. The Paddock: Once the grazing area for the working horses, it now shelters some of the magnificent Southern Beeches (Nothofagus) for which Rowallane is famous. The rocky outcrops are being replanted to show off the natural rock and a plethora of wild flowers flourish in the sunny open meadow.
14. Avenue Ground: Rocky outcrops catch the eye as you explore this curious terrain. Primitive stone seats and cairns complement the unusual stone features that were erected by the Reverend John Moore in the 19th century.
Woodland area - approximately 50 minutes return journey from car park
7. Woodland Walk: Witness nature at its best in this relaxed area that loops around the perimeter of the lower garden. Bulbs carpet the ground in spring and there are splendid views towards the farmland and the garden. The National Trust carefully manage this woodland area to enhance nature's bounty of blackberries and create woodpiles in which insects can make their home.
8. Trio Hill: Bordered by the woodland and rolling farmland, and parallel with the Spring Ground, this elevated area gives a pleasant view down to the lower part of the garden. Stately conifers and graceful deciduous trees thrive here.
9. Rock Garden Wood: This natural rocky outcrop is planted with a charming array of bulbs, herbaceous plants and small shrubs. From colourful spring flowers to flaming autumn shades there's something to see all year round in this jewel in Rowallane's crown.
10. Old Wood: Here the dry stone walls mark the site of a former tenant farm. It has an enchanting, secluded woodland feel, with Rhododendrons growing under a canopy of Scots Pine and Beech trees.
11. The Hospital: Named when this small, sheltered field housed ailing calves. Now it contains a collection of unusual trees most notably the Handkerchief Tree (Davidia involucrata), which flowers in May. Maples embrace their distinctive burnished tones in autumn and delicate wild flowers are scattered amongst the bases of shrubs and trees.
12. Spring Ground: Dating back to the days of the working farm when the young cattle were turned out to graze in spring, this 'field' now affords sweeping vistas out into the natural landscape. Here the Rhododendron flower in a variety of shades from early spring. This is also a fine area to savour the eye-catching autumnal foliage.
15. Ancient Rath - approximately 45 minutes return journey from car park
Dating back to 500-1100AD, this ancient fortified homestead would have originally been a defensible enclosure that provided protection for families and their livestock. En route there are panoramic views over three townlands and across to the famous Mourne Mountains.
* Please note that National Trust entrance pricing applies for Rowallane Gardens. Please see the link below for details *
Dog Policy
Dogs must be kept on leads in the main grounds. Dogs are not permitted on farmland. A dog exercise field is available on site.
Facilities
Carpark, seasonal café, toilets (including disabled toilet), information shed.
Accessibility Grade
Grade 5
There may not be a formalised path, and variable, single file trails are to be expected.
Gradients and cross slope could be expected to be steep and not limited.
Obstacles and surface breaks of greater than 75mm measured across the line of the path to be expected.
Overhanging branches are possible. Passing places and rest areas may not be formalised or provided.