Saint Patrick's Way: The Pilgrims Walk
Saint Patrick's Way: The Pilgrims Walk is an 89 mile signed walking trail connecting key Christian Heritage sites between Armagh and Downpatrick. The trail is suitable for walkers and pilgrimages.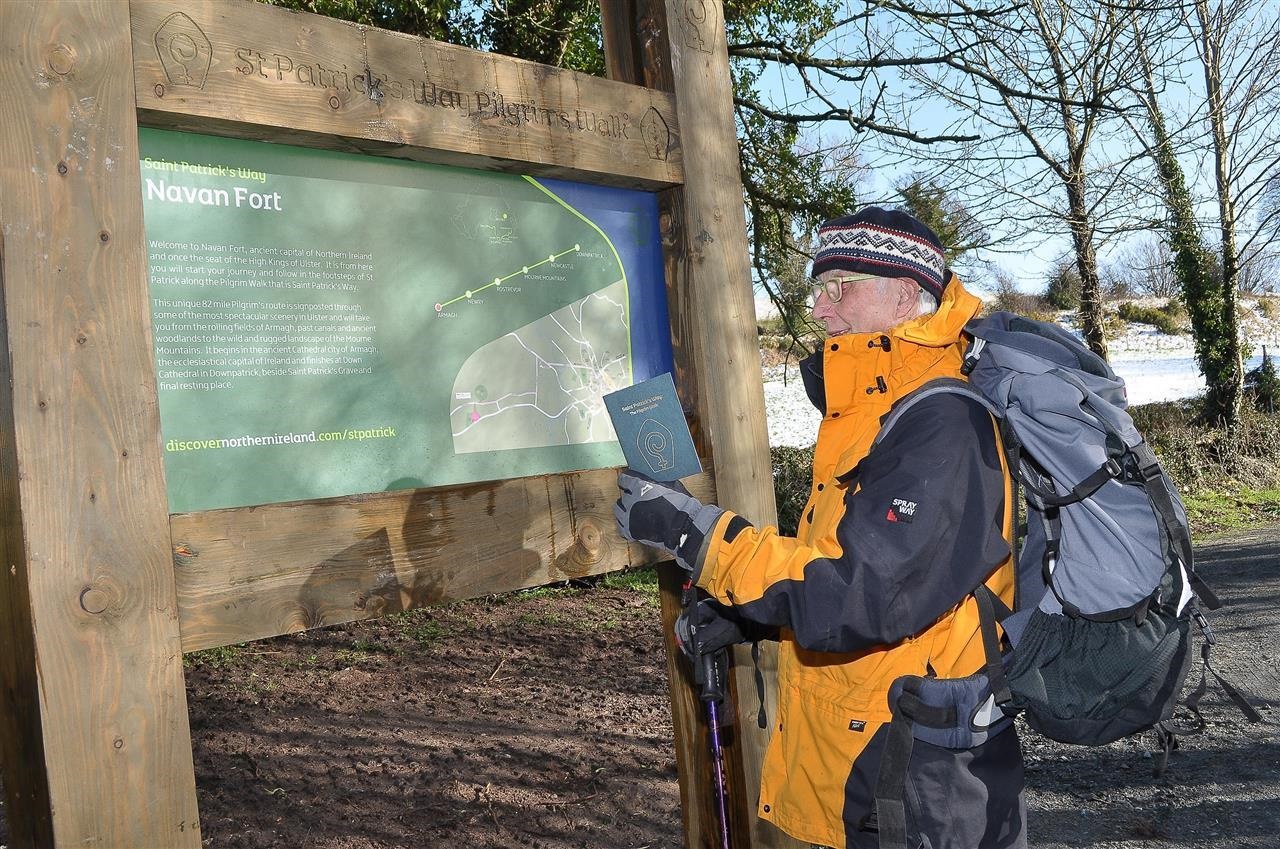 County Armagh
Distance 88.9 miles
OS Map 19, 21, 29
Terrain Various Terrain & mountain paths
Nearest Town Armagh
Route Shape Linear
Grid Reference H845446
Route Type Forest, Hill, Mountain, Parkland & Grassland, Riverside, Urban
Route Description
This 89 mile signed walking trail connects key sites relating to Saint Patrick and Christian Heritage, taking you through some of Northern Ireland's most spectacular scenic landmarks.
Saint Patrick's Way is suitable for leisure walking and pilgrimages. The walk begins at the Navan Centre outside Armagh City and will lead you through Armagh and Down's rural, industrial and linen heritage, via canal towpath to the historic city of Newry. The walk then takes a scenic route through the stunning Mourne Mountains, through beautiful forest to the seaside town of Newcastle. From here, the Walk travels through the untamed landscape of Murlough Bay Nature Reserve, by Dundrum Castle, Tyrella Beach and finally to Downpatrick.
A special Pilgrim's Passport aims to enhance the walking experience as well as acting as a recorded souvenir of the journey. The passport is available from The Navan Centre & Fort and local Visitor Information Centres or can be downloaded online. Stamp your passport at the 10 specified locations along the route and present your stamped passport at The Saint Patrick's Centre, Downpatrick to receive your certificate of achievement.
The Pilgrim's Walk takes between 6-10 days, depending on your pace. While the walk is signposted and divided into manageable sections, as detailed in the guide, it is recommended that you accompany this information with Ordance Survey Maps.
Every day is different- The route covers varied topography, from rolling hills to canal towpaths. Every day offers different views and terrain, with a combination of off- and on-road trails. With plenty to do and see along the way, there are many cafes, restaurants and picnic sites for refuelling.
Route Sections:
(A) Navan to Armagh & City Tour (5k / 1 day)
(B) Armagh to Scarva (29km / 1-2 days)
(C) Scarva to Newry (20km / 1 day)
(D) Newry to Rostrevor (15km / 1 day)
(E) Rostrevor to Newcastle (38km / 2-3 days)
(F) Newcastle to Tyrella (18km / 1 day)
(G) Tyrella to Downpatrick (16km/ 1 day)
Point of Interest
Saint Patrick's final resting place, St Patrick's Cathedral Armagh, Navan Centre & Fort
Facilities
Car park and cafes available in towns along the route.