Sallagh Braes
A stunning short walk across exposed hillside, leading to and along the edge of the Sallagh Braes basalt cliffs. Views can be enjoyed across the cliffs to the valley below and the Irish sea in the distance. The local area has recently been featured in the popular tv series 'Game of Thrones', interpreation can be found in Linford Car Park and is a popular stop off point for fans of the show.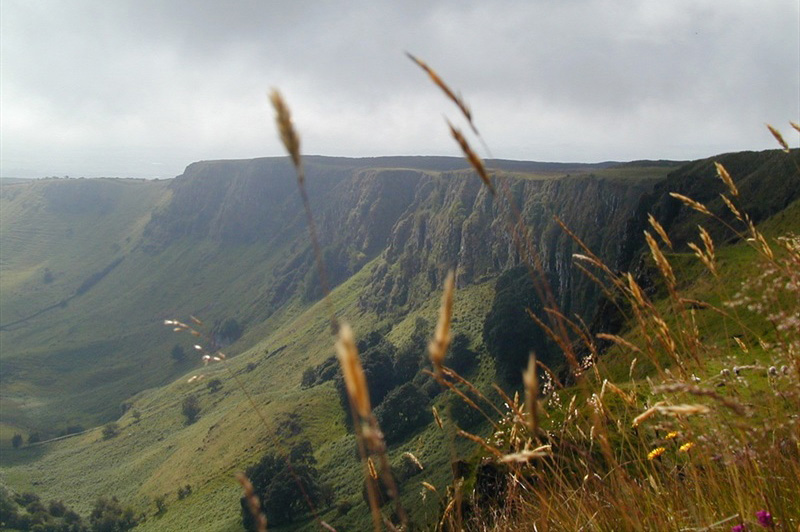 County Antrim
Distance 1.8 miles
OS Map 9
Terrain Open hillside, grazed by sheep
Nearest Town Ballygalley
Route Shape Linear
Grid Reference D332 072
Route Type Coastal, Hill, Mountain
Route Description
Leave Linford Car Park, using the style on the southern boundary of the car park. Follow the yellow and blue waymarkers for the Ulster Way/ Antrim Hills Way. Follow the desire line uphill towards the next fenceline. Pass over the shoulder of Robin Young's Hill, and descend to heather moorland at the edge of Sallagh Braes.
Follow a fence around the rim of the escarpment, with steep gullies allowing an occasional glimpse into the void below. The airy sensation and the view over the curving cliffs make this a very memorable piece of walking. When the route starts to veer away from the edge of the escarpment, turn and retrace your steps back to the car park.
The Ballygally area is home to several areas of filming for the popular tv show 'Game of Thrones'. Cairncastle is a meadow area up from the main village of Ballygally, but there is no castle. This is where the cult series kicked off in its now trademark dramatic fashion, with Ned Stark beheading a Night's Watch deserter in full view of Jon Snow, Theon Greyjoy and the Stark brothers Robb and Bran in Season 1.
In Seasons 4 1 and 5 Cairncastle was used as a location for The Neck. Cairncastle, which is high up on the Antrim plateau appears in the scene where Littlefinger took Sansa to Moat Cailin and she made her decision to ally with the Boltons. This dramatic plain with its basalt outcrops was chosen to represent The Neck, which is the backdrop to where Sansa learns she is now betrothed to the horrific Ramsay Bolton.
Sallagh Braes is the scenic location where Brother Ray built a Septry with the help of the Hound.
Dog Policy
Dogs are strictly not allowed, even when on a lead.
Accessibility Grade
Grade 5
There may not be a formalised path, and variable, single file trails are to be expected.
Gradients and cross slope could be expected to be steep and not limited.
Obstacles and surface breaks of greater than 75mm measured across the line of the path to be expected.
Overhanging branches are possible. Passing places and rest areas may not be formalised or provided.