Scrabo Hill
The walk takes in the summit of Scrabo Hill and the famous Scrabo Tower built in 1857, one of Ireland's best known landmarks. The views over Strangford Lough and North Down are some of the finest in the country. The walk then descends to the disused sandstone quarries which provided building stone since Anglo-Norman times. The old quarries have major geological importance and have been designated an Area of Special Scientific Interest.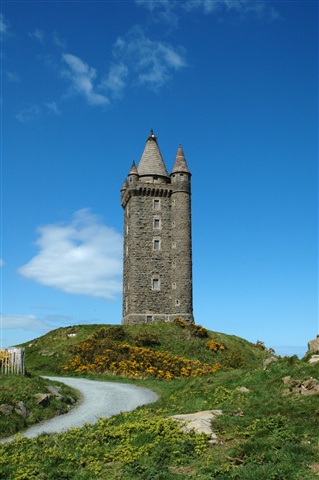 County Down
Distance 1.4 miles
OS Map Sheet 21
Terrain Off road paths, steep
Nearest Town Newtownards
Route Shape Circular
Grid Reference J475723
Route Type Hill
Route Description
From the top end of the main car park, cross road to reach tarmac access route leading to Scrabo Tower. Walker will pass a signposted picnic site on the right. On leaving the summit of Scrabo Hill return via the same route until arriving at a narrow path on the left. Follow this path downhill to reach the picnic site.
At the opposite end of the site follow another path downhill, keeping to the left at a fork (follow direction arrow ). As it makes it's way downhill, the path provides views across the South Quarry. At the end of this path, turn left, passing to the side of a green barrier. The entrance to the South Quarry is now to the left.
On leaving the South Quarry, follow the direction sign to the North Quarry on the left. Continue straight along this path and just short of 1km, arrive at sign post indicating the North Quarry to the left. Follow this path along the bottom of the quarry, eventually climbing a set of steps to a higher level and arriving at a junction of 4 paths.
Continue straight across this junction to begin the return towards the car park. After 185m approx, the path already taken into the North Quarry is reached once again. From this point, continue straight on along this now familiar route back to the car park.
Getting to the start
From Newtownards or the Comber bypass, follow the signs for Scrabo Country Park. Drive uphill to the Country Park's main car park (Grid J 475722).
Facilities
Toilet block situated at the main car park at the start of the walk. A RADAR disabled toilet is available.
Accessibility Grade
Grade 5
There may not be a formalised path, and variable, single file trails are to be expected.
Gradients and cross slope could be expected to be steep and not limited.
Obstacles and surface breaks of greater than 75mm measured across the line of the path to be expected.
Overhanging branches are possible. Passing places and rest areas may not be formalised or provided.