Slemish
Aside from its natural beauty, Slemish's value as a heritage site is entirely bound up with its association with Saint Patrick. In local tradition, the mountain was the site of the saint's slavery, where he spent 6 years herding livestock for Mulchi, the local chieftain.
This is an Ulster Scots walk. Part of the 'Danders Aroon' series, Slemish is a beautiful walk with rich heritage that you can learn about as you take a stroll.
It is a difficult climb to the top of the awesome Slemish Mountain, a volcanic plug, where a scramble up the steep slopes is rewarded with a 360degree view over much of County Antrim.
Check out the 'Danders Aroon' videos in the Route description below to find out more about the Ulster Scots history of the area and this walk.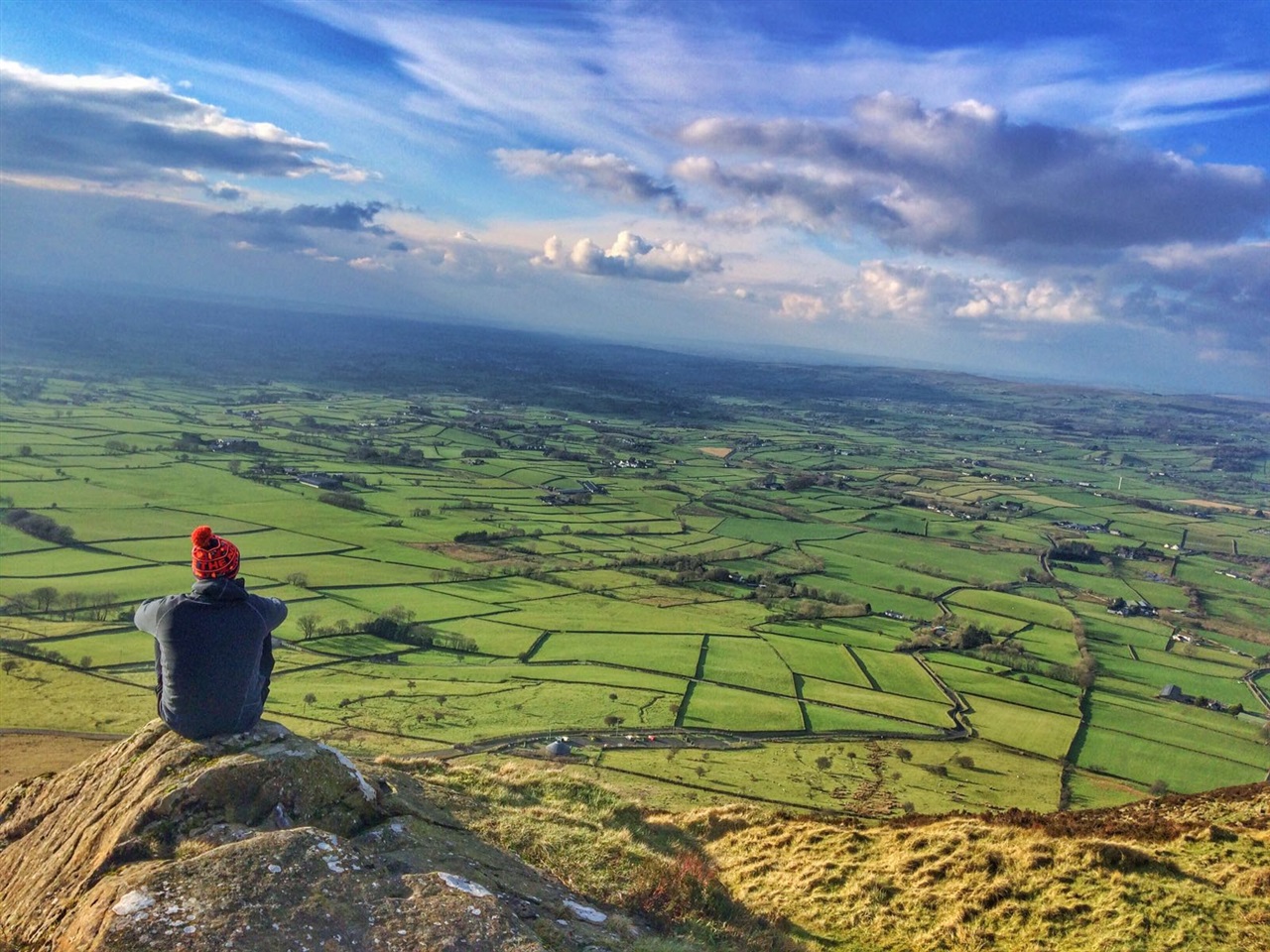 County Antrim
Distance 0.7 miles
OS Map Sheet 9
Terrain Steep rocky track
Nearest Town Nearest village Buckna
Route Shape Circular
Grid Reference D217056
Route Type Mountain
Route Description
This route begins at Slemish Car Park about 15 minutes drive from the village of Broughshane. After following a grassy track to the base of the mountain, walkers can then pick and choose their own path over rocky terrain to the summit, some 1437 feet above sea level. This short ascent is reasonably strenuous however your efforts are more than rewarded with fabulous views which are sure to re-energise any tired legs. For a gentler descent, walk across the grassy summit in a southerly direction and hike down the south face of Slemish. You can then traverse back across the south western side of the mountain before picking up the route back to the car park. Be sure to keep your eyes peeled for Irish Hares in the surrounding plains and bird lovers will enjoy spotting any number of Wheatears, Ravens and Buzzards hovering above. Despite being only 1.2 miles in length this rocky ramble should take around an hour to complete, leaving plenty of time to take in the jaw-dropping views. Slemish has lots of Ulster-Scots heritage, illustrated in these videos from Graham Little's 'Danders Aroon' series.https://vimeo.com/657557890/59132e69eb https://vimeo.com/691809378
Facilities
Car parking, picnic tables, toilets and information centre.