Slievenacloy – Priest's Hill
This walk takes you around the highest points of Slievenacloy Nature Reserve. Experience the wild heathland & awesome views over the Belfast Hills, the Sperrins & even Scotland! Due to grazing animals dogs must be on a lead at all times. Much of this walk is accessible by all.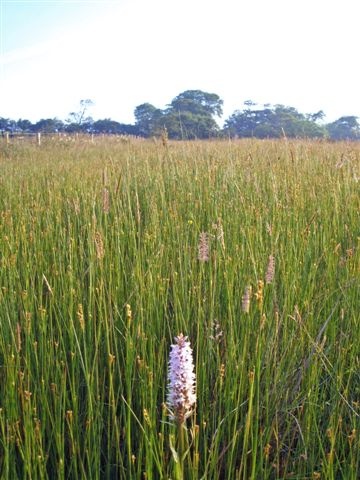 County Antrim
Distance 1.4 miles
OS Map Sheets 14 & 15
Terrain Off road paths, heath, slopes
Nearest Town Stoneyford near Lisburn
Route Shape Circular
Grid Reference J250713
Route Type Hill
Route Description
Walk west from the farmhouse following the surfaced track & the blue skylark waypoint markers. At the end of the lane in viewpoint 1. From here turn right & walk through the kissing gate into the field. Follow the fenceline north around the edge of the field until you reach a pedestrian gate.
From this gate follow the fenceline to the left, emerging through a kissing gate to Viewpoint 2. From here, follow the surfaced track south east, turning right back towards the farm buildings at the junction.
Getting to the start
Found off the Flowbog Road with parking available. Ring the Ulster Wildlife for further details 028 4483 0282 or see link below to Ulster Wildlife website.
Facilities
Visitors should park where they can find a safe spot, for example across one of the double gates at the start of the path leading to the derelict farmhouse, leaving space for tractor access. Refreshments can be bought from the Glen Colin filling station
Accessibility Grade
Grade 5
There may not be a formalised path, and variable, single file trails are to be expected.
Gradients and cross slope could be expected to be steep and not limited.
Obstacles and surface breaks of greater than 75mm measured across the line of the path to be expected.
Overhanging branches are possible. Passing places and rest areas may not be formalised or provided.